That's totally fair. I just happened to be there on a day where they had 4 people working platform so that's where the good ops came from lol
I had those good ops yesterday as well. Also, Timbers was a walk-on all afternoon, too, with pretty good dispatches to make it even better (10 rides in just over an hour and fifteen or so).
Back to Anaconda, I took this from my visit given this rumor that spurred on: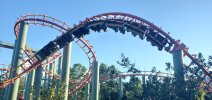 Those corkscrews ride very nicely to me, at least.
Last edited: