Six Flags Fiesta Texas' park president, confirmed on Facebook that SFFT is removing the park's bumper cars to make room for future expansion.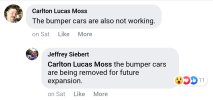 Jeffrey Siebert has also been posting teasers with "#SFFT2023" for the last few days.
Could this be one of the two newly-confirmed-for-2023 Skyline Attractions P'Sghetti coaster sales?