So, naturally, the potential replacement of Mäch Tower is a hot topic right now. With an already seemingly-stacked addition timeline in the years ahead, there seems to be a possibility that Mäch Tower could be removed potentially well before a new attraction is constructed to replace it.
With that in mind, I wanted to pitch a much cheaper, non-ride solution to replace Mäch Tower. The idea I came up with aims to reorient the front section of Oktoberfest away from focusing on a large thrill ride and back towards a more understated, more comfortable direction.
This concept is
specifically designed
to be budget-friendly. I'm sure we can all imagine far more grandiose possibilities, but I wanted something that could realistically be accomplished on the cheap by reusing as much of the current infrastructure as possible.
Anyway, my pitch is this:
Remove Mäch Tower
and only Mäch Tower
. Leave the ride's platform, the queue, the decorative metal structure—
everything
. Convert the existing queue structure into multiple food and beverage counter service booths. The exact mix of offerings here is up to you, but I imagine one third focused on beer, one third focused on generic snacks and drinks, and one third used as a flex space for special event food and beverage offerings (Food & Wine plus Beir Fest).
Fill the area behind and below the current decorative structure that encircles Mäch Tower with the tables which are currently housed behind Beste Brezeln und Bier. In the center of that structure—exactly where Mäch Tower currently stands—put up a new, realistically-sized maypole. Then, run streamer-like banners from the top of that new maypole out to the furthest segments of the surrounding structure. Mount some lights and interior-facing fans to the existing tiered framework, and you have a semi-shaded, Maypole-themed Biergarten.
Then, with the now-vacant area behind Beste Brezeln und Bier, restore Oktoberfest's planters and greenery. Currently that area looks horrible—just a massive, barren wasteland of tables and aggregate. Restoring this greenery will make an enormous cosmetic difference to the area behind the pretzel shop and around Der Wirbelwind. I kept the printed concrete dead-end right next to Wirbelwind with the thought that it would make for a nice area to put some benches for spectators.
Since we've added a new Food & Beverage flex space, we can demo the supposedly-temporary,
incest-themed
, frozen drinks booth across from Verbolten. We should take the ugly games booth out while we're at it too. Guest flow through this area of the park is a mess right now. The path to Das Festhaus should be wide and inviting. This plan solves that.
A map of what I'm envisioning can be found below.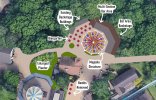 The benefits for the park here are obvious.
It offers the park more food and beverage sales opportunities in an incredibly high-traffic area of Busch Gardens.
It removes some strain from the massively over-crowded pretzel shop.
It provides more seating and relaxation areas for guests waiting for friends and/or family on Verbolten.
It replaces a horribly problematic ride with a notable improvement to the guest experience in Oktoberfest with very little investment.
Lastly, I'll also point out that this solution opens up the area currently occupied by Beste Brezeln und Bier's seating area for future expansion. It's easy to imagine a new flat in this area in the future—a theoretical addition that would only make this Maypole Biergarten a more appealing place for ride-averse folks to settle in and grab a snack and a drink as they watch the rides from the sidelines.
Last edited: