So I was perusing eBay for park merch (as one does on a Monday night) and I remembered that I hadn't run a search for Lakeside Park merch in a while.
For the uninitiated, Lakeside was an amusement park located in Salem, VA. It was home to a number of rides over the years—most notable among them was Shooting Star, a classic, John Allen-designed L-shaped, out-and-back woodie. The park ultimately closed in the late 80s following a devastating flood and a lawsuit resulting from the death of a maintenance worker.
For the BGW fans out there, Lakeside may ring a bell. It was the original home of Busch Gardens Williamsburg's Alpen Express train.
Anywho, since ParkFans is sorta the defacto source for VA amusement industry discussion at this point, I feel like we should be doing something to highlight Virginia's now-defunct parks. Hence, this thread.
That said, I have something to kick things off with as well. So that initial eBay search this evening didn't provide anything interesting... until I switched over to the recently sold listings. That's where I found an absolute gem—the type of thing I dream about when researching old parks—a roller coaster lost to history.
RCDB lists
two wooden coasters as having been Lakeside Park's only two coasters. Well, it turns out that they, at one time, had a steel coaster too—seemingly towards the end of the park's life.
Here are the photos from the eBay listing for a Lakeside Park brochure from an unknown year.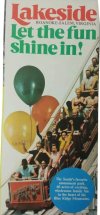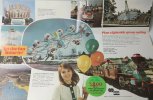 Note the steel coaster in the bottom-middle area of the park overview shot. Can anyone identify this make and model? I'd love to have some information to submit to RCDB alongside this photo!
Last edited: