Today, Knott's Scary Farm announced the first new maze, and possibly the new attraction coming to Paranormal Inc's building: Bloodline 1842!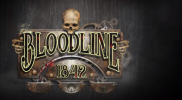 It appears to be a vampire themed maze in the vein of the old Special Ops: Infected, but in this case you're teaming up with a clan of vampires to kill an evil king. The park describes the house's storyline like this:
Blood and blessings! In the ALL-NEW Knott's Scary Farm maze, Bloodline 1842, you'll be armed with the latest Bellatorian weaponry. Heed the call to action as you embark on a perilous journey with the immortal Daybreakers as you travel through the busy city streets of Valdonia while hunting the bloodthirsty Valhymphri in an all out war! Bring light into the darkness and survive the vicious onslaught of vampires and bring honor to your order!
You can watch the announcement video here:
What do you think of this maze? Personally, I am very excited for it and hope to experience it as my first house ever if I go to Scary Farm this year!
Last edited: