ParkFans Founder
Silver Donor
Jun 2, 2011
2,875
5,001
270
So the all new Eurosat has opened at Europa Park featuring two different rides on the same track system.
NewsPlusNotes
has a great write-up recapping the important points of this really cool sounding re-imagined coaster. Also, I've included images provided by the park to media outlets.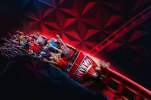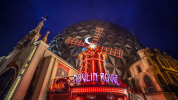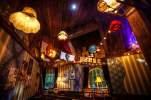 I do not believe that the second and totally separate Coastialilty VR station for the "Valerian and the City of a Thousand Planets" themed VR experience has opened yet, but it was previously reported and visible in concept art that the queue and station for this separate experience would be located on the other side of the building as to not clash with the seriously gorgeous Moulin Rouge themeing that the park has put in for the "traditional ride experience."
Here is concept art for the Coastiality VR Station, and as you can see, it appears to be intentionally a little more generic so that they can change out the Media content as IP's come and go from public popularity. It's generic enough were it could go with most anything, yet modern enough to fit with the futuristic setting of Valerian.

This Tweet has the only photo I've been able to find of the finished exterior of Coastiality's station. From the looks of inside the windows they're still working on getting that part ready.