Aug 3, 2017
4,344
9,353
250
I was greatly impressed with
@cdchen83
's "pipe dream" concept of using the Festhaus Park area for a new hamlet. I know
@Zachary
encouraged him to create a separate thread (from the Festa Expansion thread) and I hope he does. It's a rather aggressive plan with a giga, bridge across the Rhine, etc.
I'm not trying to upstage him. He inspired me to think outside the box...but a bit more conservative. Lol
So here's my vision of Festhaus Park - "España".
Entry - between Festhaus and Bumper Cars an ornate wrought iron archway.
Pathway - We straighten out the pathway so it's closer to the Verbolten building. Heavier greenery and stone wall along the Festhaus side until shops. A new gate/entrance to the reserved picnic area.
Shops/Snacks/Restrooms - Built in front of the Verbolten building and opposite side (blue squares). All with Spanish style architecture.
Plaza del Sol -
• New train station at the crossroads. Architecture is similar to the station in Puerto del Sol (Madrid). A connecting Tapas restaurant on with outdoor/indoor seating. Black Forest picnic area reconfigured to allow restaurant service from Festhaus back area.
• Large fountain in center of the Plaza. (Star)
• Current service roads remain- repaved in paver stone.
Torre España - Perhaps an S&S Combo Tower combining Space Shot and Turbo Drop. (I recall original height permit stated the structure would be see-thru. Thus, my idea).
Major Coaster - Located in the remainder of the old DF footprint. As long as Apollo still has strong appeal, I don't see a giga. Maybe something like an RMC single rail (Wonder Woman or Railblazer) - unique to the area/competition.
Flat Ride - Cyborg Spin? (red square)
High stucco walls surround remaining area. Lower service road remains non-public to allow access to Verbolten building and to service new shops.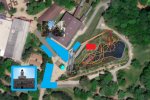 Last edited: