On August 10th, 2023, Dorney Park officially announced Iron Menace, a new, Bolliger & Mabillard-made, 160ft tall dive coaster coming to the former site of Stinger in 2024. This steel mill-themed coaster will feature a 152ft tall, 95 degree first drop, four inversions, and be the North East's first dive machine.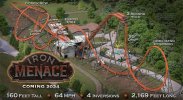 Promotional Video:​
Direct Link to Embedded Media Source
Fact Sheet:​
Designer: Bolliger & Mabillard
Coaster Type: Dive Machine
Lift Height: 160 Feet
Drop Height: 152 Feet
Max Drop Angle: 95 Degrees
Top Speed: 64 Miles Per Hour
Inversions: 4

Immelman
Zero G-Roll
Inclined Loop (World's First on a Dive Coaster)
Corkscrew

Length: 2,169 Feet
Duration: 90 Seconds
Trains: 2
Riders Per Train: 21
Hourly Capacity: 1,140
Animated POV​
Direct Link to Embedded Media Source
Lore​
In the early 1900s, Scottish businessman Hiram S. McTavish opened McTavish Steel Mill, a direct competitor to Bethlehem Steel Company. Greed dictated McTavish's every move, and he was well known to prioritize profits above people.

With an eye on maximizing output, McTavish created a massive hauler he dubbed "Iron Menace," a device the steel industry had never seen. The rail transporter moved workers and ore at record volumes and dizzying speeds.

Suddenly the greedy steel baron mysteriously disappeared—no one knows how or where. Shortly after, McTavish Steel Mill closed. All that remains today are the mill's decrepit shell, rusty relics and wild tales of the owner's whereabouts.
Off-Ride Animated Fly-Around​
Direct Link to Embedded Media Source
Concept Art​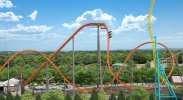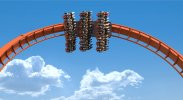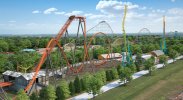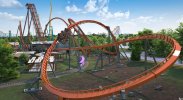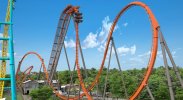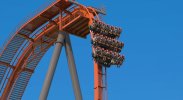 Official Website​