Disclaimer: This post contains several pictures. You might want to scroll down if you are interested in just getting the meat and potatoes of this post.
It came as a big shock to me (and possibly several of you) when Cedar Point announced that they would be removing Wicked Twister last year. Well, Cedar Point Nation has dug up some blueprints filed by the park for a project that explains why they needed to get rid of it. Take a look at this: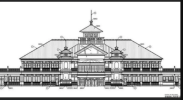 This is the blueprint for a two-story pavilion with a restaurant on each floor and an outdoor patio.According to a permit filed on April 6, it will be known as the Grand Pavilion and is slated to reside in Wicked Twister's former plot in 2023. Construction began in June, and is progressing smoothly, as shown by this photo from Cedar Point Nation's Facebook:
Once this building is complete, also expect to see the Ferris wheel relocated elsewhere in the park so that the Pavilion has unobstructed views of the lake.
Now, perhaps the most intriguing part of this project is this poster on the construction wall:
A Troika, as we all know, is a type of flat ride. Since the poster says more fun in 2023 and mentions the Troika, could we be seeing an additional flat ride in this area too? I think so, since the Extreme Sports Arena plot is next to Wicked Twister's old plot, and once the Pavilion is finished, that Arena plot will be wide open for development. But that's just my opinion. I'd love to hear y'all's thoughts on if we could be getting something to go with the Grand Pavilion, or if this will be the Roller Coast's only new addition in 2023.