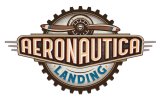 ​
On August 11th, 2022, Carowinds officially announced a new aviation-themed land called Aeronautica Landing. This immersive new area is slated to replace the former Crossroads section of the park between Afterburn and Copperhead Strike. Aeronautica Landing is planned to debut in 2023, Carowinds' 50th anniversary.

New Attractions​
Air Racer​
Manufacturer: Zamperla
Model: Air Race
Official Description:​
Do you have what it takes to maneuver these speedsters of the skies? Hop in a vehicle of your choice and race and roll through the obstacles recreated from heroic tales of ace pilots high in the Carolina sky. Air Racer delivers an exciting ride combined with impressive visuals due to its uniquely designed experience.​
Air Walker​
Manufacturer: Zamperla
Model: Skater
Official Description:​
Our aviation experts are testing the limits of an experimental aircraft engine and need your help. New lift and propulsion technologies simulated in this rotating ride can make planes faster but sometimes unstable. Willing to take a spin and put the latest and greatest thrill machine to the test?​
Gear Spin​
Manufacturer: Zamperla
Model: NebulaZ
Official Description:​
What if a ginormous, red-hot propulsion engine—normally used to thrust an aircraft through the atmosphere—was outfitted with seats for riders? What if the engine's extreme power and force created a speeding, spinning adventure reserved for only the bravest riders? Say hello to Gear Spin.​
Gyro Force​
Official Description:​
Located inside secret testing grounds, the X-J1 is used to evaluate new lift and propulsion technologies. The wild experimental engine design on this experience is bigger and faster, and maybe a little unstable, and requires brave test pilots daily to help advance this exciting research.​
Rethemed Attractions​
Hover & Dodge​
Official Description:​
Aspiring hovercraft pilots can learn the ropes in the specially designed, cosmic training ground. But there is a wacky twist: In this futuristic version of bumper cars, these are transformed hot rods into hovercrafts—and they are prone to malfunction and bump into each for a high-larious time.​
Food & Beverage Offerings​
Terminal A​
Official Description:​
Modeled after high-end and exclusive sky clubs, the new Terminal A restaurant and bar offers top-tier service, delicious eats, and craft beer on a stunning patio. Ask the friendly staff about the history of Carolina aviation and the flight jackets on display.​
​
Air Drop Supply Co.​
Official Description:​
Drop in for delicious treats at Air Drop Supply Co., the new walk-up diner. A unique kitchen from a container simulating those that are filled with supplies and dropped from airplanes to people below. Give the "Sky-High Dog" a try!​
Additional Elements​
Aeronautica Landing Game Zone​
Official Description:​
Acrobatic challenges and prizes await as you walk a balance beam or hang as long as possible—all against a backdrop that simulates a high-altitude experience. Practice your accuracy by pushing your aircraft up a wall to win a race underneath a prized-filled canopy. Level-up your hoops game and score prizes with aeronautical clues to help with basketball trajectory and gravity. Try the balloon bust classic carnival game where everyone is a winner.​
Concept Video​
Official Links​