Busch Gardens Flying Coaster
Jul 7, 2017
341
1,578
210
Not that the park necessarily needs this but I thought the idea was worth sharing:
A decent sized on-site hotel for Busch Gardens Williamsburg I've quickly decided to name the Old Country Hotel. Below are a few screen shots of the general idea and layout I have come up with. The site is situated along the parking lot entry road and US Route 60. The actual building itself utilizes the existing tram road landbridge to allow it to be built in the ravine area surrounded by trees. This allows guest rooms to be walking distance from the park entrance, and still have a quiet, secluded feeling in every room.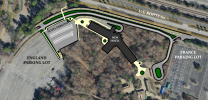 The hotel, which is built on the existing landbridge built for the tram road, is generally 60 feet wide and about 500 feet long. I am not sure how many rooms that can house. If the building were only 2 floors, it could be at least 200 rooms I assume. I would have to design an actual floorplan to be accurate with it. Below, is the footprint for the building and some surrounding infrastructure. The tram road would be relocated just adjacent to the entry road.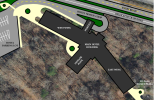 Guests who wish to stay here would proceed through the main parking toll booths. There, they will receive a new tag for their vehicle allowing them to advance to preferred parking in England. Furthermore, this tag will allow them to move to the new parking lot for the hotel which is separated by a manned booth at the entrance of the lot. This lot is created from part of the existing England Lot and is separated with a new landscaped median and sidewalk. The parking lot consists of plenty of parking and access to a portico at the front of the building for luggage loading and unloading.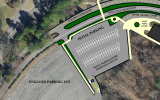 Pictured below is how guests would enter and exit the park and hotel. Out of the main flow of people traffic, a short new path would connect the existing ticket plaza with the east wing of the new hotel. Of course, guests could also walk from the hotel, through the England Lot and across the bridge to access the park like now. However, this is likely quicker.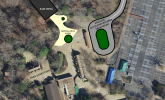 If SeaWorld ever decided to build a hotel for the park, this seems like a pretty doable option to me, besides simply building an offsite hotel in the Scotland/Bavaria lots or elsewhere. This is how I would do it and, in my opinion, has opportunity to emphasize that old Busch Gardens character and architecture while also introducing a new experience to park guests immersing them into park.