ParkFans Founder
Silver Donor
Jun 2, 2011
2,875
4,999
250
I have had a love of trains since before I can remember, I think a log of that has to do with growing up at Busch Gardens Williamsburg and just a half a block from the Norfolk Southern line in Chesapeake. I have also collected and modeled 1:87 HO Scale locomotives and rolling stock since I was 7 of 8 years old.
I have often wished I could have my own models of the Busch Gardens Railway trains, but there has never been anything even close to being accurate without building it yourself. That seems to have changed though, as I recently discovered that
Bachmann produces what they call excursion coaches
which appear to be modeled after standard Crown Metal Products coaches. They come in a variety of colors and markings.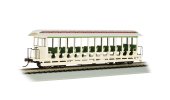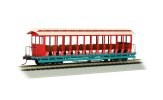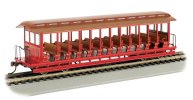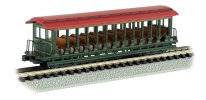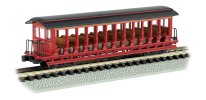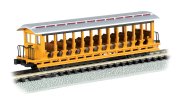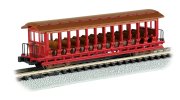 While they are a little pricey at $47-$57 per coach, they're the only type amusement park style model train coaches I have ever seen. With a little paint and some custom name plates it shouldn't be too hard to create the Alpen Express coaches.
For the locomotive it's a little bit more difficult but not impossible. The easiest train to recreate is going to be #17 Alpen Express as it is a standard American Style Crown Locomotive with minor cosmetic changes. Luckily Bachmann also produces
two different American Style 4-4-0 locomotives
in several livery styles. I am going to go with the
4-4-0 w/Coal Tender Load - Standard DC -- Pennsylvania Railroad
.

While they do already sell a green engine, it would still require custom paint to get it to match exactly and I prefer the coal filled tender to the wood filled tender even though Alpen is propane fired. After paint the only really issue is the snow plow. I have search all over the internet for something to replace the standard cow catcher with the large red snow plow that the park had installed on the real train. It wasn't until tonight that I think I finally found
something that might work
.
If I can get that snow plow installed where the cow catcher is supposed to be, the only thing left is for me to find a caboose that has the right style.
It looks like a Bobber Stlye Caboose might be the closest match in style, though the window arrangement is slightly off. I am also quite fond of the Ringling Bros caboose. The caboose would be painted to match as well.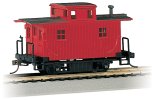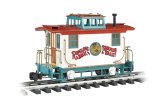 After all of that is completed, I will then have a near perfect replica of #17 Alpen Express!
Coming up with a way to get accurate replicas of #661 Balmoral Castle and #238 Der Hochbeinige is going to be a lot harder considering they were custom built and there are no other locomotives on earth built the way they are built. In Europe they really did not use 4-4-0 style locomotives, and BGW took creative liberties when having these two trains built. I could always go with a train with more wheel, but I am hoping it will be possible to find a way to create a more accurate reproduction of the two locomotives.
I'll keep you updated on the progress of this little project as it comes along. If you have any ideas feel free to share!
Last edited: