recently ive been thinking to myself the following: alpengeist is rough and boring. no one likes it, it alwasy has a supe rshort line, half the time the ride ops let me stay on and marathon it, but i alwasy decline. anyways, i just rode that tumbely ride at kd and thought it slayed major assage and think BG should one up those punks up the road. so i've decided bg should build a hyper s&s 4d free spin called alpenflip
DISCLAIMER: i want to become a coaster engineer one day, this is my life goal so please be gentle w criticscim. this is a respectful space, though i appreciate constructive feedback
concept: So youre in a germany town, hella bored bc its a ski town and you dont ski, your walking around and then you see this: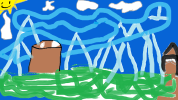 this huge ass roller coaster, you would probably shit your pants out of fear and excitment. anyways, so you go into the old alpie station and theyre like "yeah we tore down that lame ass ski lift ride thing or whatever and put in this sweet ass 4d free spin, wanna ride?" (keep in mind they say this in german bc this is theming yanno) anyways ur like *hits vape* hell yeah brotha. you take a seat and start going up the lift, you get to the top and then you hear roaarrrrr and the ghost of the alps is back! you flip over the crest of the lift backwards at 200 feet (finally being a hyper unlike alpie, really busch, 197? like come on, did you really have to market it for babies?) anways, so this would be 5000 feet long and no trims, unline alpie. after you exit there would be a store with pit viper and non nictonie vape juice but in german branding
anywasy, i know that was a lot, thoughts on alpenflip?