Post: #1


Joe
Both Parks Fan

Posts: 4,001
Joined: Feb 2011
Reputation: 47

Given 10179 thanks in 3076 posts

Years ago I wrote a concept exploring possible ways for Kings Dominion to open for the holiday season in a fashion similar to Christmas Town at Busch Gardens. As two years have passed since the writing of that original, rudimentary concept, the park has undergone many changes, and I think it is time to revisit the notion of opening Kings Dominion for Christmas. I won't waste too much time with an introduction, as I am sure there are many reading this who understand my desire to see the park beautifully lit for the holiday season. My goal was to create an event that features a variety of settings, emotions, and events that create a fulfilling, multi-faceted event without being redundant to a certain event in Williamsburg. Enjoy reading my concept for Winterfest: A Kings Dominion Christmas!
Key:
WP = Weather Permitting WT = Working Title IL = Incomplete List
Click any music listing to view its iTunes page. Open the album in iTunes to hear the music.
International Street
Theme:
Old, fantasy European village celebrating Christmas
Decor
-Main Path: Wreaths hung on all doors, windows; fake icicles cling to gutters and roofs; garland strung across some buildings; red bows tied to architecture; warm string lights line the edges of the buildings (reused from main season)
-Eiffel Tower: Lights strung from the top of Eiffel Tower to its base, creating the shape of a massive Christmas tree
-Fountain Pool: Three large, warmly lit (artificial) Christmas trees stand in the drained fountain pool, each in the place of one of the main fountain jets; rows of blue or white lights strung across the pool floor imitate water
Music:
Inspiring, uplifting film soundtracks
-Polar Express Suite - Polar Express
-Seeing is Believing - Polar Express
-Spirit of the Season - Polar Express
-Main Titles - Disney's A Christmas Carol
-Touch My Robe - Disney's A Christmas Carol
-Dash Away - Arthur Christmas
-Fred Claus Suite (starts at 1:40) - Fred Claus
Operating Attractions:
Berserker, Dominator (WP), Eiffel Tower
Special Attractions:
-Snoopy's Christmas Spectacular: (WT) Holiday version of Snoopy's Starlight Spectacular on Center Street; predominantly features epic Trans-Siberian orchestra holiday music
-A Charlie Brown Christmas: Showings of the classic cartoon in the Action Theater
-International Street Carolers: Carolers dressed in Victorian-era outfits singing classic Christmas carols; main show located on Grand Bandstand, though carolers may also roam
-Snoopy's Grand Lighting: Similar to "Snoopy's Merriest Tree Lighting" at Knott's Merry Farm, this show involves Snoopy and Santa ceremoniously lighting the nearby "tree" (Eiffel Tower) which culminates with a pyrotechnics display; located on Grand Bandstand
Dining:
Border Cafe, Pizza Parlor, Panda Express
Special Dining
-Fountains and Floats: sells specialty, gourmet hot chocolate
Dominator Walkway
*Included as separate entry because this sub-area has no thematic relation to International Street
Theme:
Calm, beautiful, reflective icy path between park areas
Decor:
Cool white light, and cool white, graceful lawn ornaments such as white wicker deer and white wicker christmas trees.
Music:
Quiet, reflective music
-Fred Claus Suite
(0:01 - 1:40)
-
Tranquility - Nox Arcana
-
Greensleeves - Nox Arcana
-Winds of Change - Nox Arcana
Old Virginia
Theme:
Peaceful, old-fashioned country Christmas in the mountains
Decor
-Main Path: Warm white, red lights cover trees; potted Christmas trees scattered throughout area, lit with warm white, red lights; (artificial) candles in windows of buildings; old wooden props (sleds, snowshoes, etc.) are set up in some areas
-Waterfall: Dinosaur removed, replaced with a large nativity scene; projections shimmer white light in the splash pool, imitating rippling water
-Pond by Restrooms: A large wooden sleigh filled with various objects (presents, food, etc.) sits in the drained pond
-Shenandoah Lumber Co.: Strings of twinkling blue or white lights run down the ride's drop, imitating flowing water
-Stream flowing through area: Strings of twinkling blue or white lights run through the drained stream bed, imitating flowing water
Music:
Peaceful Christmas guitar music
-
Wyndham Hill Holiday Guitar Collection
(album)
-
Christmas Guitar: Silent Night
(album)
Operating Attractions:
Flying Eagles, Blue Ridge Tollway, Grizzly (WP)
Special Attractions
-Dinosaurs Alive - Prehistoric Holiday: (WT) Dinosaurs Alive attraction with select dinosaurs comically dressed up in holiday clothing
-Home For Christmas: (WT) Inspirational, heartwarming musical story of an American soldier during WWI coming home for Christmas - based on Christmas Truce of 1914 - located in the Kings Dominion Theater
-Country Musicians: Guitarists or fiddle players may wander pathways on higher-attended days
-Snow: Machines atop certain buildings blow artificial slow onto the path near the Liberty Bell
Dining:
Wayside Grill, Country Kitchen
Candy Apple Grove
Theme:
"World's Fair"-type showcase of various holiday celebrations across the globe
Decor:
-Main Path: Predominantly gold, red, and green lights on trees; large fiberglass statues of nutcrackers and similar characters located throughout planters; large-scale fair-themed Christmas decorations such as Ferris wheels or carousels located in certain locations; one large Christmas tree housed in the center of each planter; candy cane-type lights run the length of the area's central planters
-Carousel Area: Surrounded by nutcracker statues
-Floral Clock: The metal letter outlines are filled with lights, and strings of lights follow the outline of the flower beds; (i.e. it is more of a "light clock" than a "flower clock")
-Hurler Area: Bright, old-fashioned tacky colored lights; neon lights and signs; rock-n-roll themed decorations located throughout the area; the two Cadillacs in front of Juke Box Diner are decorated with bows and garland
Music:
-Main Path:
"Happy Holidays from the Husky Marching Band"
(album)
-Carousel Area:
"A Music Box Christmas"
- Various artists (album)
-Hurler Area:
"Rock 'n' Roll Christmas - Happy Holidays to You and Yours"
(album)
Operating Attractions:
Americana, Bad Apple, Carousel, Delirium (WP), Dodgem, Drop Tower (WP), Hurler (WP), Rebel Yell (WP), Ricochet (WP), Wave Swinger, Windseeker (WP), Xtreme Skyflyer
Special Attractions
-Singing Mushrooms: Dressed in Santa hats, the singing mushrooms sing classic Christmas carols
-Santa's Workshop: Photo opportunity with Santa Claus, located in the building next to Grove Arcade, which is dressed up with a thematic facade (requires dismantling of the first Slaughterhouse room to make space)
-Toy Soldier Brass Band: Small band of brass instrument players dressed in outfits reminiscent of toy soldiers, playing Christmas songs; similar to main season's Clown Band; main show located on Grove Stage, though band may also roam
-Rides renamed: To enhance the festive feel of the area, many of the rides are given slightly different names and new signs. For example, Drop Tower may be renamed "North Pole Plunge" or Rebel Yell "Reindeer Racers."
-Festival of Holidays: Numerous re-purposed Spring Bloom Festival booths are erected throughout Candy Apple Grove, each showcasing the cultures of different holiday celebrations across the world (Hanukkah, Kwanzaa, etc.); the booths sell culturally-based foods and small setups beside the booths that display some sort of traditional art or craft associated with the holiday
Dining:
Victoria Gardens, Apple Ida's, Dinner Bell, Juke Box Diner
Special Dining:
-Island Twist: The Dole Whip stands are converted into hot chocolate stands
-Festival of Holiday booths - see above
Safari Village
Due to its low number of operable rides and expansive size, Safari Village as a whole will NOT be a part of Winterfest, at least in its initial years. However, the park's only indoor roller coaster, Flight of Fear, will be in operation. Entrance to the area from the path next to Boo Blasters will be blocked off, with the entrance through the Safari Village arch leading directly to the Flight of Fear queue (see below). Entrance into Safari Village is reserved only for guests riding Flight of Fear.
Decor:
Minimal decor; green and red laser-light projections are used to light up trees with a unique, futuristic look; fog machines from Haunt give the area an ominous feel (while compensating for the lack of decoration)
Operating Rides:
-Flight of Fear - The queue starts at the entrance to Safari Village, under the wooden arch and near Three Point Challenge. A temporary sign with the Flight of Fear logo is draped over the Safari Village sign, and needed safety information is posted here. A long, temporary queue composed of chains stretches all the way from this area and through Safari Village until it feeds into the existing queue for Flight of Fear. A similar queue runs alongside the first one, but it instead meets up with the ride exit, providing a set path for exiting riders to return to the rest of the park.
Music:
Operation Christmas - Harry Gregson-Williams
"Waker!" - Harry Gregson-Williams
Mission Control - Harry Gregson-Williams
Bring Them Home - Harry Gregson-Williams
Race to Gwen's House - Harry Gregson-Williams
Goodbye Evie - Harry Gregson-Williams
Planet Snoopy
Theme:
A charming, festive Peanuts Christmas, as seen in the television special "A Charlie Brown Christmas"
Decor:
-The entire area is decorated with large, tacky, colorful lights; large, colorful lawn ornaments and various inflatable figures are located throughout; the fiberglass Peanuts figures are dressed up with winter clothes
-Fountain Plaza: Fountain filled in with bricks, and the Snoopy and Woodstock figures in the fountain are given scarves; the topiaries are given oversized winter clothing, respective to what they wear in the television special; a slightly oversized "Charlie Brown tree" is erected in the main planter next to the fountain, with metallic Christmas trees surrounding it in reference to the television episode
-Snoopy's Dog House: This building, next to Flying Ace Balloon Race, is decorated just like it is in the television strip, including the "first prize" ribbon.
Music: Switches between classic Peanuts Christmas music and upbeat, contemporary children's music
-
Skating - Vince Guaraldi Trio
-Linus and Lucy - Vince Guaraldi Trio
-Christmas is Coming - Vince Guaraldi Trio
-Christmas Time is Here - Vince Guaraldi Trio
-
Last Christmas - Taylor Swift
-
Merry Christmas, Happy Holidays - *NSYNC
-
All I Want For Christmas is You - Glee
-Extraordinary Merry Christmas - Glee
-Christmas Wrapping - Glee
-(IL)
Operating Attractions:
Boo Blasters on Boo Hill, Charlie Brown's Wind Up, Flying Ace, Flying Ace Balloon Race, Great Pumpkin Coaster, Joe Cool's Driving School, Linus Launcher, Lucy's Crabby Cabbies, Lucy's Tugboat, Peanuts Turnpike, Peanuts Road Rally, Snoopy vs. Red Baron, Snoopy's Junction, Snoopy's Rocket Express, Snoopy's Space Buggies, Woodstock Express (WP), Woodstock Whirlybirds
Special Attractions:
-Meet the Peanuts Gang: Photo op with Peanuts characters, dressed in winter clothes. A styrofoam wall that mimics the wall at the end of the television special is added as a prop.
-Crafts Area: Near the Peanuts Showplace Theater, children may decorate Christmas ornaments or similar items, with the option to keep them or hang them on a Christmas tree located nearby
-Christmas Time is Here, Charlie Brown: A family-friendly musical show located at the Peanuts Playhouse; identical to the show at Knott's Merry Farm
Dining:
Chik-Fil-A, Marketplace
This wraps up my concept for Winterfest! What do you think? What would you add? Remove? Please share your ideas below!
---
Find Busch Dominion:


Instagram | Twitter | Facebook | YouTube
Thanks given by:
Connor, Nicole, WasabiDragon, SWStevo, Zachary, netdvn, Jesy, Luke, Hokie305
Post: #2


WasabiDragon
.:the opiate of the masses:.

Posts: 211
Joined: Sep 2014
Reputation: 6

Given 304 thanks in 145 posts

I like what you've come up with but I feel that including Avalanche and Scrambler would be a must. Those are two of my favorite rides and would affect my choice in visiting the park during a winter themed event.
---
.:

"I have some skeletons in my closet. Hamsters mostly. I don't know why I keep them."

:.
---
Thanks given by:
Joe, Hokie305
Post: #3


netdvn
Team Instinct

Posts: 1,682
Joined: Jan 2012
Reputation: 31

Given 2646 thanks in 990 posts

Not sure if Windseeker or Drop Zone would be viable in December thanks to the temperatures but a pretty solid winter event regardless.
---
Project Geauga Lake - Photos! - BGW Crowd Calendar -

Don't look back, as you brave the Black Forest
Thanks given by:
Joe
Post: #4


horsesboy
501 to 750 Posts

Posts: 677
Joined: Jun 2013
Reputation: 9

Given 1479 thanks in 499 posts

One problem I see is that there is a pretty nice Christmas light show and event 5 minutes down the roads at Meadow event park.
Post: #5


Joe
Both Parks Fan

Posts: 4,001
Joined: Feb 2011
Reputation: 47

Given 10179 thanks in 3076 posts

Perhaps, but it could also be seen as a perk. The State Fair tends to boost Kings Dominion's attendance when it comes around. Maybe the proximity of another good holiday event could be another incentive to entice people to visit.

I'd also like to note that I am in the process of adding a few more aspects to my concept to increase the event's spectrum beyond just Christian celebrations. Stay tuned...
---
Find Busch Dominion:


Instagram | Twitter | Facebook | YouTube
Thanks given by:
Zachary, Nicole, Zimmy
Post: #6


Zimmy
Nessie wants her orange back!!!

Posts: 3,741
Joined: Sep 2013
Reputation: 24

Given 5453 thanks in 2427 posts

Don't forget to put the
Yule
back in Yuletide!
---
Numquam ponenda est pluralitas sine necessitate!

- William of Occam


I'm serious now, who here wants my job?

- NASA Director James Webb
Post: #7


Joe
Both Parks Fan

Posts: 4,001
Joined: Feb 2011
Reputation: 47

Given 10179 thanks in 3076 posts

The original post has been updated to better reflect my concept for Candy Apple Grove. The area, themed to a sort of "World's Fair"-type carnival, will feature reused booths from the Spring Bloom Festival to sell foods and other items from various cultures (Kwanzaa, Hanukkah, Diwali, etc.).
Also, for anybody having trouble envisioning International Street: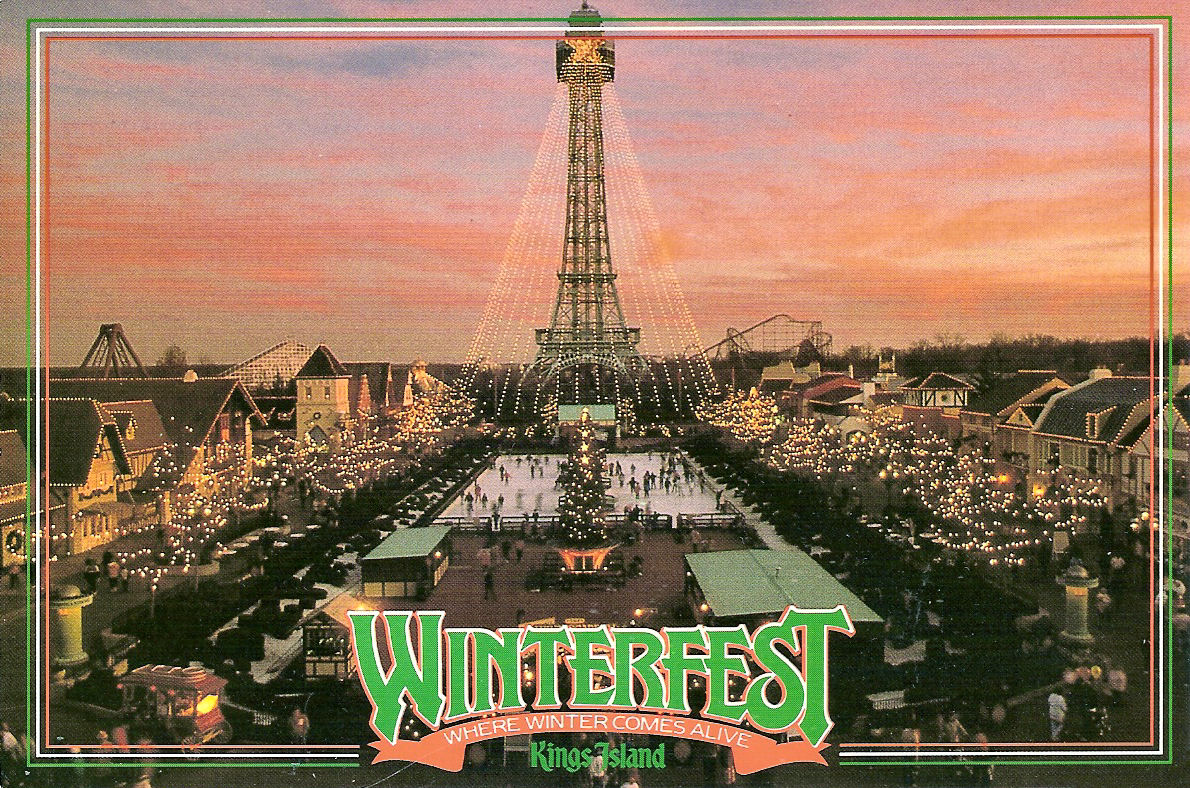 ---
Find Busch Dominion:


Instagram | Twitter | Facebook | YouTube
Thanks given by:
Connor, Luke, Nicole, netdvn, Jesy, Zachary, Hokie305
User(s) browsing this thread: 1 Guest(s)
---