Cedar Fair B&M Hypers Get Seatbelts For 2014
Post: #1


b.mac
Humming the Bassline

Posts: 2,453
Joined: May 2011
Reputation: 24

Given 2199 thanks in 1004 posts

With the opening day for Banshee come and gone news has gotten around that Diamondback @ Kings Island, Intimidator @ Carowinds, and Behemoth @ Canada's Wonderland have all had seatbelts added to their trains this year. So far this addition only seems to be affecting the Stadium-style seating trains. The only other B&M Hyper in the Cedar Fair chain is Leviathan, which uses the traditional four across seating and does not have seatbelts as of right now.
The only other B&M Hyper to have seatbelts was Nitro, but those were removed at the end of its first season and have never come back. Steel Dragon 2000, when it got its new B&M trains, also came with seatbelts. Who knows the reason why these were added when the rides have been around for years (2008-2010 they were built), and they have not gotten new trains either. Here's some pictures of Diamondback for proof:
Thanks given by:
Zachary, Connor, Nicole, destroyer421
Post: #3


b.mac
Humming the Bassline

Posts: 2,453
Joined: May 2011
Reputation: 24

Given 2199 thanks in 1004 posts

Multiple sources have confirmed that the cedar fair hypers have to have their seatbelts checked first and the harnesses separately and second. I'm talking two safety check passes, capacity will probably be below 1100 riders per hour and the slow down is definitely noticeable.
Post: #4


Unagi
1501+ Posts

Posts: 2,040
Joined: Apr 2011
Reputation: 36

Given 3600 thanks in 1212 posts

Did Nitro have a seat belt?

I though it was just some sort of clasp on the side of the seats that hooked into the restraint.
Post: #5


Connor
New France Member

Posts: 1,724
Joined: Sep 2013
Reputation: 14

Given 2728 thanks in 975 posts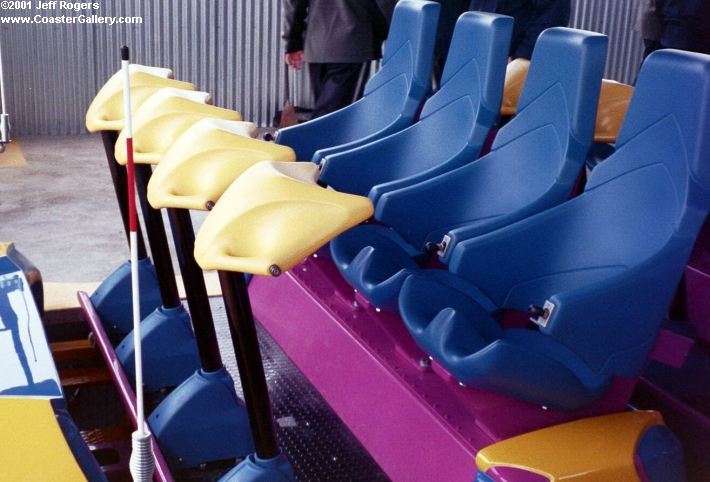 For the first year yes. It slowed down operations and was unnecessary so they were removed. In my opinion they look a little uncomfortable.
---
Where is Hummel Boy?
Post: #6


Nicole
#ForScience

Posts: 6,721
Joined: Jul 2013
Reputation: 58

Given 15708 thanks in 5174 posts

How is
that
for predictive analysis?
---
"Wit has some truth in it; wisecracking is simply calisthenics with words." -- Dorothy Parker
Thanks given by:
Shane
Post: #7


b.mac
Humming the Bassline

Posts: 2,453
Joined: May 2011
Reputation: 24

Given 2199 thanks in 1004 posts

The weird thing is it's a different company, with a different style of ride from a different manufacturer. Multiple people are saying it was an order from B&M but it makes zero sense to me that they'd do this for only three coasters when they've built more than 10 of them.
Thanks given by:
Jesy
User(s) browsing this thread: 1 Guest(s)
---